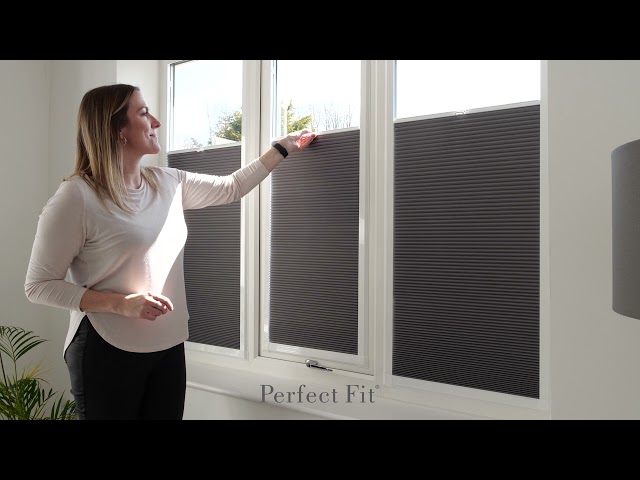 What are Perfect Fit Blinds?
Perfect Fit is a clip fit blind system designed by Louvolite. It consists of the blind itself, mounted in a painted aluminium frame. The frame is available in a variety of colours including white, anthracite grey, brown, silver and wood finishes. No screwing or drilling is required because perfect fit blinds are supplied with a unique bracket system that simply slides under the window beading at the outside edge of the window glass, and the frame including the blind is mounted on these brackets. The perfect fit frame is suitable for a number of different common blind types - roller, venetian and wooden blinds, pleated and cellular shades and vision (a.k.a day and night) blinds. Each of these blind types has a myriad of fabric or slat options, making this no-drill blind system one of the most adaptable and creative on the market!
What types of blinds are available as Perfect Fit?
At Newblinds.co.uk, Our Perfect Fit Range Includes:
How to Fit Perfect Fit Blinds?
The beauty of this no-drill blinds system is that they are so simple to install. The blind will be supplied with discrete brackets, which slide into the beading around the edges of the glass. The blind itself is mounted within a frame, and this frame simply clips onto these brackets. Once installed, the blind appears to be an integral part of the window or door. You will find information on measuring and installing each Perfect Fit Blind type on the fabric page itself. We have video guides and written instructions to help you along your way. The best thing about this clip fit installation method is that you don't need to use drills or screws to mount your new shade. This not only makes the system ideal for those with even the most basic DIY skills, but it also protects the warranty of your windows and doors - which is key!

If you require any extra information on our Perfect Fit Blinds, please feel free to contact us at [email protected]