Sunglasses for your windows!
If you were looking from the outside in you would see a mirror like reflection, whereas from the inside out you would see a tinted view of outside.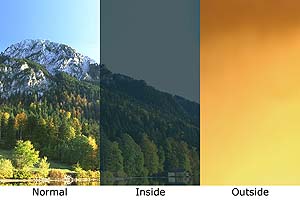 Benefits of Film Roller Blinds
There are many advantages of using Solar Film Roller blinds, but the reason most people choose a film blind is for the protection against heat, glare and UV light. Gold The top performing film rejects 93% of Glare, 87% of Heat and 99% of UV Light.
Here are some statistics for each colour:
• Gold rejects 93% Glare, 87% Heat and 99% UV Light
• Silver rejects 92% Glare, 77% Heat and 97% UV Light
• Grey rejects 91% Glare, 65% Heat and 98% UV Light
• Bronze rejects 84% Glare, 67% Heat and 98% UV Light
Energy Saving Blinds
One benefit of reducing the heat entering the room is that you won't need to use the air conditioning as much which can save a lot of money in the long run, especially in large commercial environments such as office building with large windows. That being said the savings on a domestic property such as a normal home are still very noticeable!
Increased Comfort through reduction of glare
Not only can film blinds save money in office environments, they can also increase staff and client comfort levels by reducing the glare from the sun. This leads to heightened productivity from staff as well as health benefits.
Security and Privacy
As I briefly mentioned before from the outside of the film has reflective property, which stops people from seeing into your room. This is a great security and privacy measure as you can see outside but they people outside can't see in.
Window Film or Film Blinds?
Adhesive Solar Window Film is becoming increasingly popular within the UK for many of the same reasons described above. However, it should be noted that adhesive window film is a permanent option. The key advantage that Solar Film Roller Blinds have over the application of adhesive window film is that it blends the flexibility of window blinds with the performance of adhesive solar control window film. In other words you can raise and lower a film blind, whenever you wish to use it, or not use it.
A Choice of Film Types and Colours
There are 4 different film colours to choose from – Gold, Bronze, Silver and Grey. Aside from these colour choices.
Film Roller Blinds can now be bought online! To view our complete collection, click here.