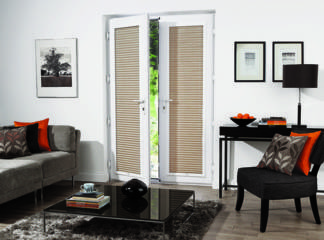 In terms of blinds, you traditionally have two options, the most effective of which being to fix the blinds to the frame of the window instead of the recess, this allows you to open and close the window, the blinds moving with the window. However, because the blinds are not always secured at the bottom they will always hang completely vertical, even if your window is tilted open.
The second option is to fit the blinds to the recess as you would with a normal window, unfortunately if you did this you may not be able to open the window because the blinds would collide with the window.
Luckily, we now have a solution, our Perfect Fit "no drill" blinds. Perfect fit blinds clip to the window frame to literally become part of the window. So when you open or tilt the window, the blinds will move with it, completely secured by the Perfect Fit frame, not dangling, banging or clattering. This allows you to have your window open or closed and your blinds will still be fully functional.

The fact that they are fitted directly to the glass also makes them the ideal solution for french doors, especially those that are inward opening, as shown in the example to the right!
Perfect fit blinds are available in roller, pleated, wooden Venetian and aluminium Venetian blind types. To browse the full collection of Perfect Fit Blinds for Tilt and Turn Windows, follow the link.