Blinds
With vertical or horizontal slats of wood, faux wood, plastic, vinyl or aluminum, blinds use cords or fabric tape to keep their elements in place. Easy to adjust for controlling light and privacy, they can rotate up to nearly 180 degrees. A cord that raises or lowers them allows varying amounts of visibility. Vertical blinds have slats that hang from supports and move laterally for opening and closing. Offering stylistic variations with slats that are narrower than those on standard designs, mini blinds blend well with contemporary settings. Newer innovations within the market-place include no-drill systems such as Perfect Fit Blinds and Intu Blinds, which simply clip fit into the beading of your window.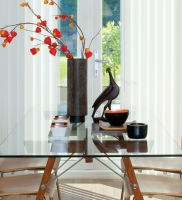 Curtains
Curtains, made of lightweight material, are unlined window treatments that hang from decorativepoles or curtain rods. Typically stationary but often movable by hand as well, they are appropriate for informal areas. They provide a decorative touch with tiebacks that allow light to enter. Curtains are not the same as draperies, even though the terms are sometimes used interchangeably. Less formal than drapery, curtains provide decorative window treatments in rooms such as kitchens and baths where entertaining does not usually occur.
Draperies
Heavy materials such as suede, velvet, brocade, chenille, damask and boucle are favourites for formal draperies. Longer than curtains and usually lined, draperies make significant contributions to a home's ambience by creating formal window treatments.
The lining in draperies gives them the additional weight that contributes to making the material fold gracefully. It also serves as insulation and light blocking.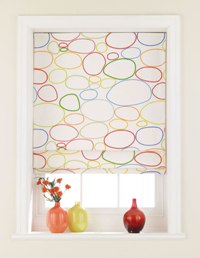 Frequently tailored with pinch-pleats, draperies typically extend from floor to ceiling. Often hanging from drapery hooks on traverse rods that provide a way to open or close them in a single motion, they are elegant features of well-appointed living rooms, dining rooms and master bedrooms. Usually more expensive than curtains, they are an investment that lasts for years.
Shades
Incorporating features of blinds as well as draperies, shades cover a window with an opaque material that can obscure it completely or partially. Like blinds, they can collapse to expose a clear view of the outdoors and expand to provide privacy. Like drapes, they use soft fabrics that create a sophisticated window treatment of colorful folds.
Roman shades create a tailored effect by forming circular pleats as they rise. Cords that are sewn on the reverse side allow the fabric to maintain a flat appearance on the window while creating a soft and voluminous look. Roll-up shades use fabric, vinyl, wood or plastic that can draw up with the aid of strings or cords. Cellular shades use multiple layers of pleated fabric that can trap air to create efficient insulation.