Have you ever sat down, after a long day at work, switched the television on only to find that irritating beam of light blocking your screen?
Or let's say you've just got to work, having woken up late, you were in a rush. As you grab your morning coffee you realise that all your blinds were still closed from the night.
Both can be resolved just by the tap of your phone or tablet! And let's face it, these days, who goes anywhere without their phone!?
Furthermore timed control can be introduced for simulated presence, privacy and security when you are away from home just for the day or for longer periods of time. Sensor driven control is an extension of this and can derive benefits such as glare/heat control plus energy savings.

Exciting eh? Here are 4 ways of making this a reality:

1) Somfy RTS motors + Somfy Tahoma
Somfy TaHoma is a low cost smart home solution. The hub itself costs only £299 including VAT and plugs into the back of your router. There is a free downloadable app for iOS and android phones and tablets, which allows you to control your RTS enabled electric blinds and curtains from inside and outside of the home. Better still, Tahoma also controls other RTS enabled devices, such as garage door and gate openers, plugs for small appliances such as lamps. Somfy have been quick to release their own range of smart home devices such as CCTV cameras, smart door bells, thermostats Aside from Somfy's own devices, Tahoma will also control a number of other brands such as Phillips Hue Lighting, VELUX blinds and windows using i/o radio protocol and much more. Once paired with Tahoma, these devices can be controlled with your smart phone or tablet. Timer scheduled operation can be set up. With the use of motion and sun or light sensors, What-If scenarios can be created. There are even integrations with Amazon Alexa, which allows voice control of Tahoma devices and IFTTT which opens the devices up to control and interaction with the internet of things. For example - how about closing your blinds or curtains when your heating comes on to keep the heat from escaping out of your windows. The possibilities are endless and this is a solution that is being constantly developed and extended. Offer: Buy Tahoma online and receive 10% off your order for electric blinds

3) Somfy RTS + Somfy Connexoon
A lower cost solution, but slightly more restricted. This is a great entry level system to enable app control of your blinds and other Somfy RTS enabled devices via your Smartphone or Tablet app. Somfy Connexoon allows timer schedule operation and creation of "Scenes" - for example, you could create a "bed-time" scene, which closes all of the blinds, and switches on or off your bedside lamp which uses an RTS enabled plug.

3) S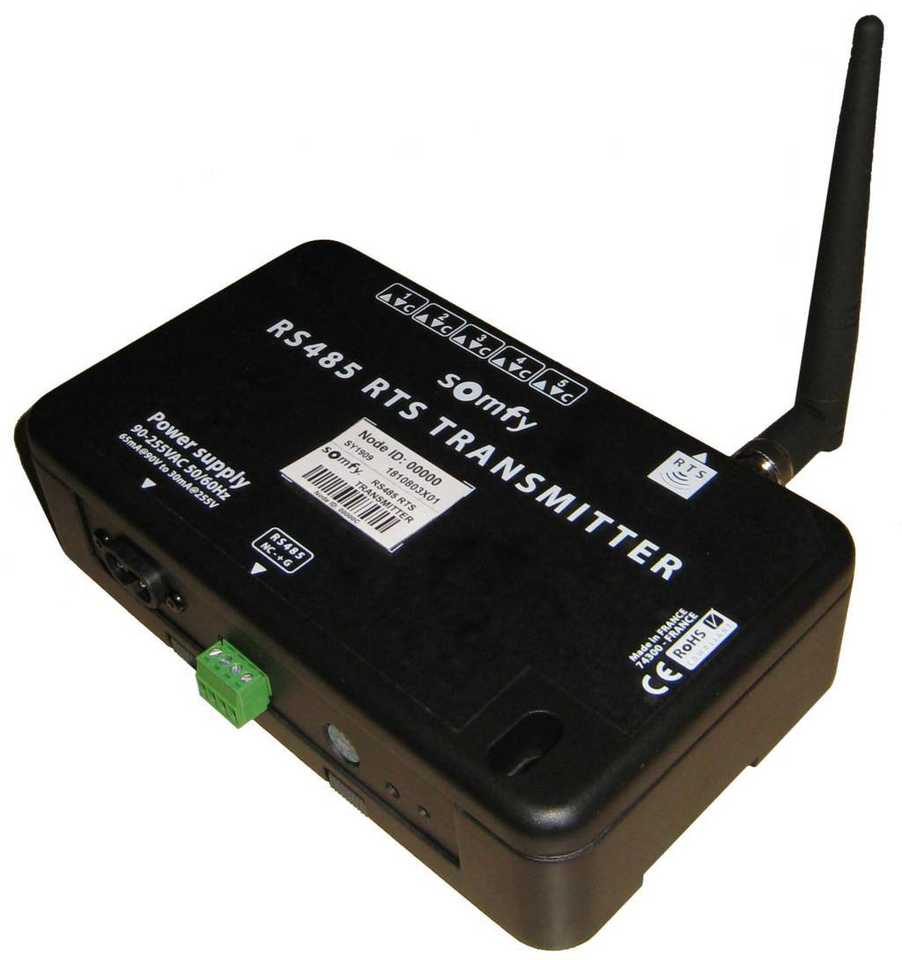 omfy RTS + Somfy RS485 Transmitter + Smart Homes System
This is entering the realms of full home automation (pricey, we know). A prerequisite for this is that the user has a compatible AV system or smart homes system installed, such as Control4 and Crestron. These systems control many facets of the home blinds being just one of them.
The Somfy RS485 RTS transmitter plugs into the AV or smarthomes system. Commands from the smart homes system are passed from the transmitter to the blinds. It can also control other Somfy RTS enabled products, of which there are many e.g lighting, gates, garage doors, awnings, curtain rails, window openers etc.
It used to be that Smart homes systems would be provided with branded tablets or wall panels akin to an ipad. These days many smart homes systems have compatible smartphone or tablet apps.
4) Wired Motor + Smarthomes system
This system is similar to the above. Again we are assuming that a smart home, AV system or Building Management System is already in place to act as the control hub. This time the motors are wired to and controlled by relays. An example of a relay operated blind is our 230v Relay Operated Roller Blinds, although most other blind types can be controlled in this way.
For the first of these two options, we can offer a full solution, however for the last two we can only supply the blinds but can often recommend an installer for the Smart Homes or AV system.

If you are interested in controlling electric blinds using your smartphone or tablet then follow one of the links above to view the enabling products or fill out our projects enquiry form and we'll be in touch to discuss.