The tours of both facilities mapped out the life cycle of the blind systems, fabrics and components – from design, to production and then onto warehousing and logistics. It was fascinating seeing it all first hand, and understanding each process.
During our tour, we were introduced to a phrase which we are told has become Louvolite's Mantra:
'The leading husky has the best view'.
Many of you will be reading this asking: what has a husky got to do with blinds or a blind company?
Like us here at NewBlinds.co.uk, Louvolite are always listening to their customers and thinking outside the box in order to position themselves ahead of "the pack" with innovative shading products.
An example of Louvolite's creativity includes the invention, and production of perfect fit blinds, a revolutionary no-drill window blind system.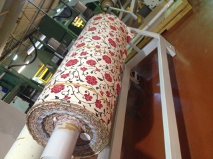 Another example is their recent inclusion of traditional "soft cloth fabrics" within their blind fabric range. They are the first blind fabric producer to offer soft fabrics such as Shot Silk, that would traditionally be used only in curtains and soft furnishings, as roller, vertical and even pleated blind fabric – allowing full co-ordination of blinds and soft furnishings. In fact, a customer can now buy blinds, cushions, runners, lampshades and other matching products in these soft cloths and they are stunning!
Similarly, Newblinds.co.uk are constantly innovating – We were the first blind company in the UK to sell blinds online, for example. We were the first to offer Louvolite's perfect fit blinds system to buy online, the first web-site to offer electric blinds and amongst many other innovations, picture blinds!
And whilst Louvolite's and NewBlinds.co.uk's competitors will inevitably flatter us by following our lead, because we position ourselves ahead of the chasing pack, we will always have the most experience and the best view of how the market is developing which will only reinforce our ability to innovate and stay ahead!
Enjoy reading? Well good news, as we like them so much, we're going to produce aso series of blogs on Louvolite. Over the coming weeks and months, we will be blogging about interesting things and facts we learnt on out tour; new and forthcoming products; why we love louvolite and of course, what all this means to you as a customer. So stay tuned!
We would like to personally thank Louvolite for their hospitality and for a very beneficial day.
So come on, be a leader! Order your innovative Louvolite blinds form www.newblinds.co.uk today!