Availability of Mains Power: 240v AC motors require a mains electricity outlet - meaning a plug socket or preferably a switched fuse spur. So, battery operated motors are great if you don't have an electricity point near to your window, or don't want to go to the expense of hiring an electrician to install an electricity point.
Blind Size: Battery blind powered motors only have the torque to automate blinds at the small/medium end of the spectrum. On larger blinds above 4-5sqm, we recommend using 240v AC motors. See further info below on size restrictions.
Battery Costs: The other benefit of 240v mains powered electric blinds is that you don't have to keep changing the batteries! It's worth weighing up, how often you are going to use your blinds. On a single up and single down cycle per day, batteries will last approximately 1 year on average. But consider that the larger the blind, the more energy will be used and the shorter the battery life. Also consider that solar powered rechargeable batteries are available - please call and ask about these.
Maintenance Time and Cost: Related to the above, consider that the larger the number of blinds, the more maintenance time a battery operated motor will need. If you are looking at an installation with say 10+ blinds, spread throughout a larger building, then perhaps mains powered electric blinds would be better than battery powered. I would always recommend mains powered for commercial installations.
In terms of size restrictions - as an example, I have included a table below which shows the recommended maximum sizes for battery operated motors. The blue area shows where only relatively light weight fabric should be used. The black area is where we recommend you upgrade to a 240v motor, regardless of fabric due to the size.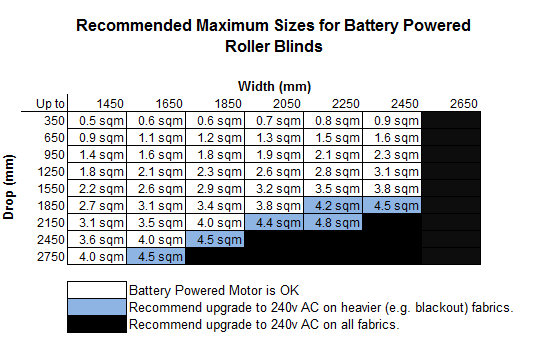 In the above table, SQM refers to the square metrage of the blind (width in metres x drop in metres). As a further rule of thumb, if your blind is using a:
Lightweight fabric (250g /m sq) - battery powered is recommended up to maximum 5sqm
Heavyweight (e.g. blackout) fabric (550g /m sq) - battery powered is recommended up to maximum 4sqm
If you have any questions or just need advice about the which motor is best for you, please do not hesitate to call our team on 0161 491 9616. You can buy 12v battery powere and 240v electric blinds by following the link.
Newblinds.co.uk Limited are an accredited Somfy Expert Retailer of Electric Blinds.