SOMFY 230vAC Quiet Radio Operated Motor
Our 230vAC mains powered roller blinds are radio operated and use SOMFY RTS motors, which are backed by a 5 year warranty. Motors come prepared with 2.5m of 2-core cable for 230v power supply 
NEWBLINDS 230vAC Quiet Radio Operated Motor 
This is a mains powered, radio operated motor sourced by newblinds.co.uk as a low-cost alternative to big-brand motors. Although it is low cost, it is remarkably rich in features offering 6 intermediate stop positions in addition to an upper and lower limit. This motor can be controlled using a selection of handsets and wireless switches.
Standard Blind Options
Blinds are manufactured using our premium SWIFTPRO roller blind system. Available to order online, there are a range of finishing touches including:
-Fabric Roll: from the window side of the tube or on the room side of the tube.
-Choice of Bottom Bar - including fabric covered, exposed circular aluminium in white, silver-grey or black.
-Choice of motor position - The motor sits inside the roller blind tube and can go on either side of the blind. 
- Handsets, switches, timers - You can select from simple 1 and 4 channel handsets, a 1-channel wall switch with integrated timer, or a 6-channel handset with integrated timer. Having more than one channel allows you to control blinds or sets of blinds independently of each other. Each channel can control between 1 and 8 blinds simultaneously. Handsets and switches are cream in colour.  
Enhanced Blind Opions
In addition to those options available on-line, we have the following options which are available via our estimates team:
Fixing Profiles and Pelmets in White, Silver-Grey and Black
SWIFTBOX Fascia - covering the front and bottom of the blind tube and brackets
Intermediate Brackets - allowing 2 blinds to be installed side-by-side, using a single central bracket. 
Double brackets - one bind fitted behind another (e.g. blackout and privacy)
SWIFTPOCKET - conceal your blind above ceiling level using our recess pocket sytem
For more information about these options - please contact our estimates team by filling out our project enquiry form.
Roller Tube Selection
Blinds up to (and including) 2400mm wide will be manufactured with a 43mm outside diameter tube. To prevent tube deflection and fabric sag, blinds above 2400mm wide will use our 56mm outside diameter tube. Please note that a blind using a 56mm roller tube will operate at a slightly faster speed than a blind using a 43mm tube. 
Order Free Fabric Samples
Don't forget that you can order free samples of fabric, which will be sent by first class post
Smart Home Integration
Blinds using SOMFY RTS motors can be integrated with many brands of smart home automation system, using a SOMFY RS485-RTS Interface which has 16 channels and is programmable using a RS485 setting tool
Alternatively, why not select Somfy's affordable Smart Home Solution TaHoma Switch - allowing app control and Alexa and Google Assistant integration
Measuring
See our guide to measuring roller blinds (clicking this link opens a new window).
Programming
Remote roller blinds are simple to install. You can watch our video play list below or read our step by step instructions  (clicking this link opens a new window)
The video instructions above show the installation of a roller blind incorporating a Louvolite open cassette, which is an optional finishing touch for our battery operated remote control blinds. The steps to programme a 230v Radio operated motor are identical. Factory re-set of the motor will differ from the video instructions and details of how to do this will be contained in the instructions that are provided with your motor.
Motor Type: 230vAC Radio Operation
Blind System: Electric Blinds
Blind Type: Electric Roller Blinds
Colour: White
Design: Plain
Blind Feature:

Motorised
Child Safe
Cordless
Privacy

Light Control: Light Filtering
View Out: Opaque
Fabric Brand: Newblinds.co.uk
Material: Polyester
Fixing Method: Screw Fix
Operation: Motorised
Window Type:

Door
Sliding Door
Bi Fold Door
French Doors
Window
Bay Window
Patio Door

Room:

Kitchen
Office
Dining Room
Living Room

Rollwidth: 2300
How do I measure for electric roller blinds?
You can see instructions for measuring for blinds at the link. Bear in mind that the widest point of a roller blind is the top - so pay particular attention to the width at the top of the recess. It's no problem for a roller blind to be too big on the drop as the excess fabric can simply remain on the tube.
How do I fit electric roller blinds?
So in terms of fitting the blinds themselves, you can refer to these electric blinds fitting instructions, which are specific to our SWIFTPRO system featured on this product page. You should also consider that there are a couple of other aspects to the correct installation of an mains powered and radio operated blinds - namely, the power and cabling, the connection to power, and the configuration of the blind. These are covered in more detail in the remaining questions below.
Will my blind motor cable come fitted with a plug?
Plugs are typically pre-fitted to portable appliances and devices (e.g. lamps, kettles, toasters etc) which can be moved from place to place and therefore require a pre-fitted plug to allow them to be powered up. Whereas a blind, once installed, remains in situ and is not portable. For this reason, the power cable of the mains powered electric blind motor that we supply do not come fitted with a plug and are not supplied with fuses.
What power and cabling is required for electric blinds?
For 230vAC Radio Operated blinds, it is normal to connect the motor cable directly to a switched and fused spur supplying mains electricity. We have put together two guides below which outline what is required:
What size fuse do I need for electric blinds?
The rated current in the motors used in our mains powered roller blinds is usually 0.5-0.6 Amp, and they have a power rating of between 90-130W. So a 3 amp fuse will be sufficient to protect the cabling and motor. Read more.
Who can install an electric blind?
It's important to consider the installation of electric blinds in terms of the discrete processes involved:
Measuring - most people can do this part themselves.However, we'd always chanting our matra whilst doing so "measure twice, buy once". If you don't feel comfortable with this then maybe try a local handy man or skilled friend! 
Installation of mains power, cabling and fused spurs - This is a job for a qualified electrician.
Installation and configuration of the blinds - As with measuring, a competant DIYer is more than capable of installing blinds, and if you are tech savvy then configuration of the blinds should be straight forward for you. 
Connnection of the blind to the fused spur would normally be carried out by an electician or a competant individual.
How do I programme electric blinds?
Once you have installed and connected the blinds to your switched and fused mains spur, the blinds themselves will need programming. Programming is important because it sets hard limits at the top and bottom of the blind which prevent the blind from over running in either direction, and possibly causing damage to the blind itself. Also, they allow the blinds to be operated at the "touch of a button" meaning you don't need to keep your finger on the directional (up or down) buttons on your handset or switch. Once correctly programmed, a single press of either button will be enough to take the blind to it's the next limit. It's also important to understand that you can only start pairing your blind with a smart home interface (such as the RS485 RTS Transmitter) or app control system (for example SOMFY TaHoma) once the blind has been sucessfully programmed. The steps you will need to follow to programme the blinds differ depending on the motor you are going to choose and instructions for both are below. If I could offer one peice of advice, it would be to follow them carefully ensuring you are completing each step before moving onto the next, and also keep other blinds powered down when you are working on a single blind.
Can I still have a electric blinds if I've not installed mains power and cabling?
If you haven't been able to install a fused spur in the vicinity of your window, you can still attach a plug top to the end of the cable, meaning that the blind can be plugged into and powered from a near by 3-pin plug socket. If you don't have a socket nearby, then of course you can run cabling to the nearest fused spur or 3-pin plug socket, but in this situation you would either need to chisel out your plaster work so that you can lay the cable, or you can surface mount trunking to contain the cabling. This can be either a bit of a pain, or quite unsightly. So if you do not have adequate power or cabling near to your window, then we would recommend checking out our battery powered roller blinds.
Can the cables on an electric blind motor be trimmed?
Short answer Yes. Long answer - be careful. With Somfy mains powered motors in particular (e.g. Sonesse 40 RTS), the antenna is contained in the first 30cm of motor cabling (i.e. the closest 30cm of power cable to the motor head). If you cut into the antenna, it can severely impair the operation of the motor and void the warranty. NEWBLINDS 230vAC Radio Operated Motor has a separate cable, so this can be trimmed within reason. 
Can electric blinds controlled by Alexa or Google Assistant?
They certainly can! If you opt for Somfy branded radio operated motors, then to operated by Alexa or Google Assistant, you will also need to buy a Somfy Tahoma Switch unit. The TaHoma switch provides control by mobile app and also integrates with Amazon Alexa and Google Assistant to provide voice control. Tahoma is packed full of smart home features in its own right and compatible with any Somfy RTS enabled device along with 100s of supported devices from partner manufacturers. Please note that in order to pair a blind with TaHoma, it must first be fully programmed and paired with a Somfy handset. So if you are planning on using Tahoma, please do not forget to buy a handset as well!
What size are electric roller blind brackets?
As shown in the diagram below, our SWIFTPRO roller blinds use brackets that project 81mm and have a foot print of 61mm. These sizes include the bracket covers. They can either be top fixed or face fixed. There is a larger bracket available, but this is only neccessary for blinds with a very large drop.  You can see full details of the SWIFTPRO Roller Blind system by following the link to a full technical specification.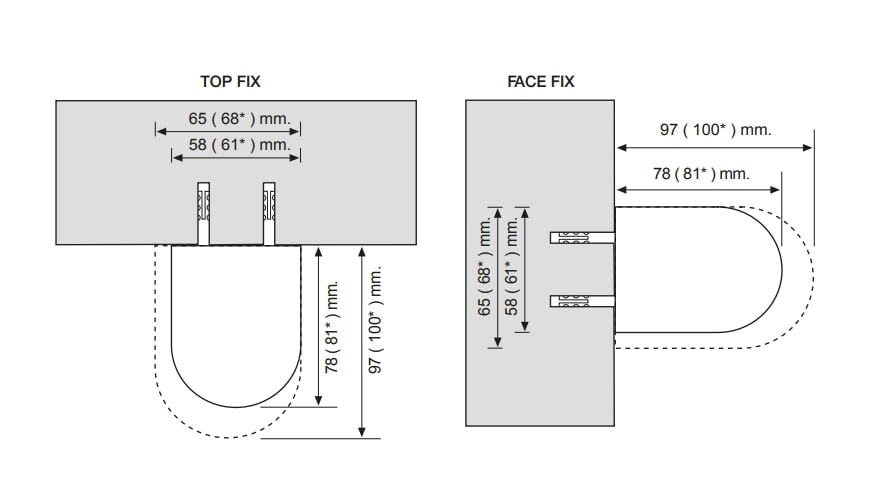 What size is the gap on each side of an electric roller blind?
It's important to understand that if you are fitting within a recess, there will be a gap between the recess walls and where the fabric begins. First of all, if you provide "recess sizes", we make an deduction of around 4mm to reach "blind size". This is so that the blind can fit comfortably within the recess. For a roller blind, the blind size (for the width) is the width of the blind from outside of left hand bracket to outside of right hand bracket. Where your blind has bracket covers, these bracket covers will be included in this measurement.
The largest gap is at at the motor end of the blind (See M in the diagram below). Between the outside of the bracket and the fabric, you will find the bracket itself and the motor head - the majority of the motor is concealed within the tube of the roller blind.
And at the idle end (See I in the diagram below), there is the bracket itself and a collapsible pin which locates that end of the blind into the bracket. 
So, from outside of bracket (inc. cover) to fabric, the size of the resulting gaps are approximately as follows:
Idle end (I): 13mm
Motor end (M): 

Somfy Sonesse 40 RTS: 23mm
Newblinds Quiet Radio: 25mm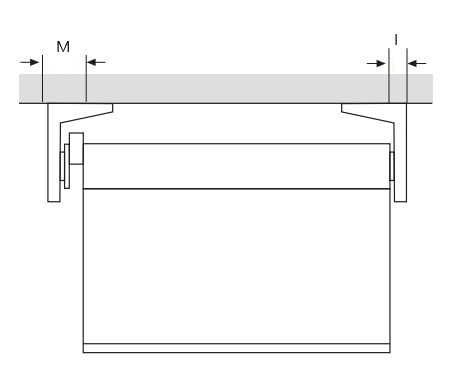 Remember that the gap at the idle end of the blind (I) is slightly flexible because the idle end pin is collapsible.
Electric Roller Blinds and Child Safety
Child Safe By Design - Motorised Operation:
Electric Roller Blinds can be operated using an integrated motor. We call this 'Child Safe by design' as there are no looped cords or chains required to operate the blind.

About Child Safety
At newblinds.co.uk, child safety is of paramount importance. If left hanging freely, chains and cords from blinds can pose a direct threat to children. For this reason, we are working towards all of our products being cord-less or chain-free and therefore "safe by design".

Where it is not yet feasible to supply a product that is "safe by design", we ensure that the product is fully compliant with Child Safety legislation. Not only do we ensure that, where necessary, our products are supplied/fitted with child safety cleats/devices, but we also supply, free of charge, these items to our previous customers.

Click the link above to inform us of your requirements. To learn more about the BBSA 'Make it Safe' campaign and blind cord safety, you can watch the video below